Hey y'all! I just had the absolute best weekend exploring Seattle for the first time ever with my college roommates, Becca and Sam. The city totally exceeded all my expectations. Let me tell you all about it!
Planning the Perfect PNW Getaway
My roomies and I have been wanting to plan one last epic girls getaway before senior year gets too crazy with grad school apps, jobs, etc. We go to school together at UCLA in sunny SoCal, but were looking for somewhere new and exciting that we'd never been.
After some research, we decided on a weekend trip to Seattle since it seems like such a vibrant, culture-rich city with amazing nature, food, and arts scenes. And it's only about a 2 hour flight from LA which is perfect for a quick bestie vacay!
I scoured the web and found the cutest, most Instagram-worthy vacation rentals in Seattle on Karta and booked a spacious renovated loft right in the heart of downtown. It had an awesome rooftop patio with insane views of the Space Needle which I knew would be perfect for our photo ops.
We flew into Seattle early Friday morning, met up at the trendy loft to claim beds, sip local coffee and immediately started gushing about how fun the next few days would be exploring the Emerald City together. We couldn't wait to dive into everything Seattle had to offer!
Old School Charm at Pike Place Market
Eager to explore, we walked from our rental to the iconic Pike Place Market on Saturday morning. Walking into the bustling market filled with vendors selling fresh flowers, seafood, baked goods and handmade crafts felt like stepping back in time.
We had the best time wandering the winding halls snacking on classic Seattle foods like the iconic cream cheese-covered hot dogs and still-warm donuts. It was so cool scoping out enormous king salmon getting tossed back and forth at the fish stands too.
I couldn't get enough of all the sights, smells and flavors overwhelming our senses – from sampling fudge to sniffing the colorful bouquets. Pike Place Market totally embodied that old school seaside public market charm.
Forest Bathing at Washington Park
After consuming our weight in food, we drove to gorgeous Washington Park to reconnect with nature and soak up those lush Pacific Northwest forests. The quiet hiking trails winding through the hilly evergreen terrain were so serene and beautiful.
We also stopped inside the quirky historic Water Tower with its cool observatory at the top. The panoramic views overlooking Puget Sound and the snow-capped Olympic Mountain range were completely unreal. Seattle definitely embraces that cozy outdoor lifestyle!
Trendy Neighborhoods and Local Nightlife
Later in the day, we explored some of Seattle's hippest local neighborhoods. We had fun shopping the funky boutiques, vintage shops, and record stores in Capitol Hill. Then we wandered through artsy Fremont admiring all the colorful street art and munching on artisanal wood-fired pizza for dinner.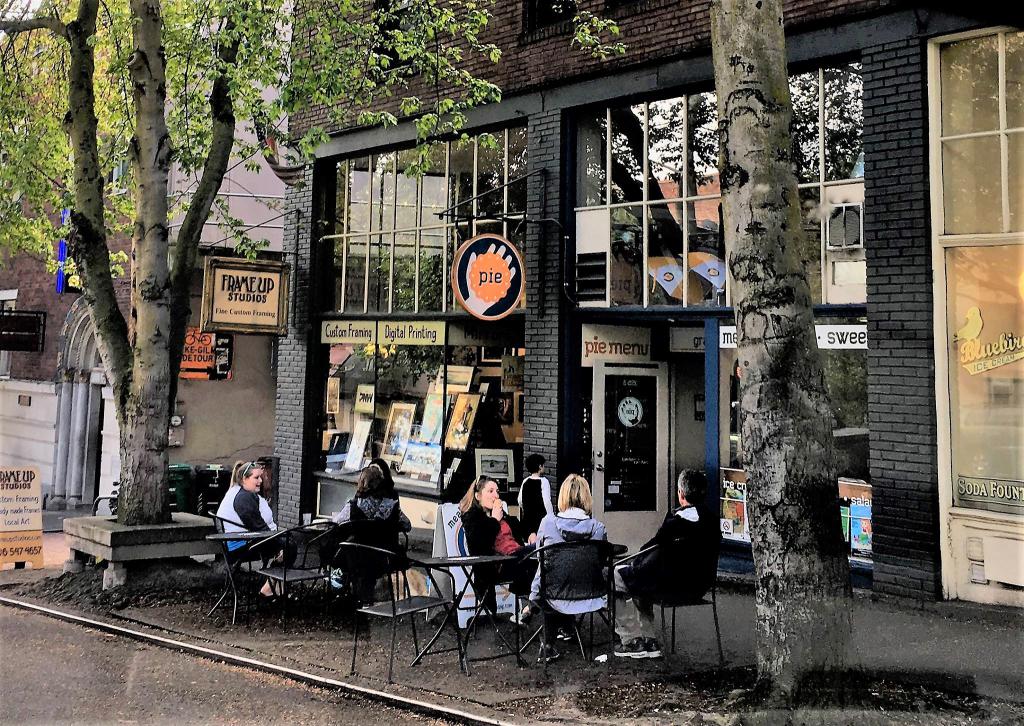 Exploring Japantown was one of my favorite parts, drooling over anime collectibles and devouring the most insanely fresh sushi. Seattle's food scene is so underrated!
That night we decided to check out downtown Seattle's nightlife. We had a blast bar hopping along the lively waterfront, hitting spots like No Anchor Bar with epic beer and cocktails on tap, cozy Purple Cafe & Wine Bar with its trendy lounge vibe, and cabaret dinner theater inside The Pink Door. Seattle definitely goes hard!
City Views from the Sea and Sky
For our last day, we decided to enjoy more of Seattle's gorgeous natural surroundings from both sea and sky. In the morning, we took the ferry over to artsy, laidback Bainbridge Island across the Puget Sound.
Leaning over the deck railing, breathing in the crisp ocean air, and watching the Seattle cityscape fade and reappear was such an amazing experience. Later at the iconic Space Needle, watching the fiery sunset over the mountains from high in the sky as the lights slowly flickered on across the city was pure magic.
Already Planning My Next PNW Adventure
Before we knew it, Sunday evening rolled around and it was sadly time to pack up our things at our perfect downtown Seattle vacation rental and head back to SoCal. But we were already making plans to come back and experience more of the Emerald City together soon!
Seattle completely stole my heart with its vibrant culture, trendy arts scene, fascinating history, amazing food, and proximity to beautiful nature. I couldn't have imagined a more perfect girls weekend getaway destination.
I'm still daydreaming about strolling downtown, eating my weight in salmon and clam chowder, hiking misty evergreen trails, and dancing in lively bars. There's so much to uncover in Seattle and I can't wait to return to keep exploring this amazing city!
So that's the full scoop on my awesome first time in the PNW! Let me know if you have any other recommendations for cool neighborhoods, cafes, museums, hikes etc to explore on my next trip. I'm already counting down until I can return!